No explanation is necessary when we say this year has brought about some changes that we are all 'pivoting' through. The annual Winter Conference and exhibition is moving forward with a few changes to prioritize safety while providing education and networking opportunities that are still being asked of us.
The traditional two day conference will be held with a condensed overall schedule, limited shared meals and one track of courses with designated exhibition hours. For the first time ever, a virtual registration will be available for anyone to attend the courses and receive credit. There are regulations and a strict policy in place if you plan to use this option but do not fear. This option will provide the ability to attend the courses from anywhere you have service and avoid the exposure of others. There will be a capacity limit on the amount of in-person attendees however, the limit is on the high end of what we naturally experience each year in attendance.
We hope to see you there whether in-person or online.
---
REGISTRATION INFORMATION
VIRTUAL REGISTRATION: For educational credit, each virtual registrant needs to have their own eMail to log onto the courses for credit. WE DO HAVE APPROVAL FOR COMPANIES TO BRING TOGETHER THEIR REGISTERED EMPLOYEES AND VIEW IN ONE LOCATION. Attendance will be taken silently from the virtual host during each course for credit. The full legal name needs to be used when logging on. You may log on through your phone to view courses. A desktop computer is not necessary for attendance.
---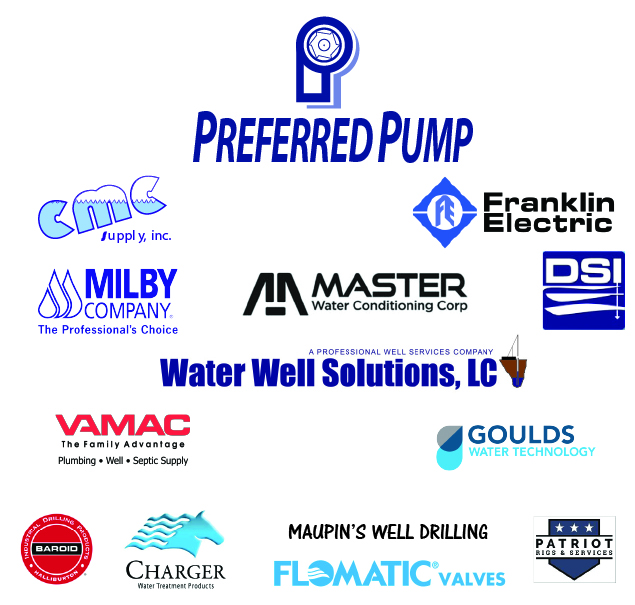 CONFERENCE SCHEDULE & EDUCATION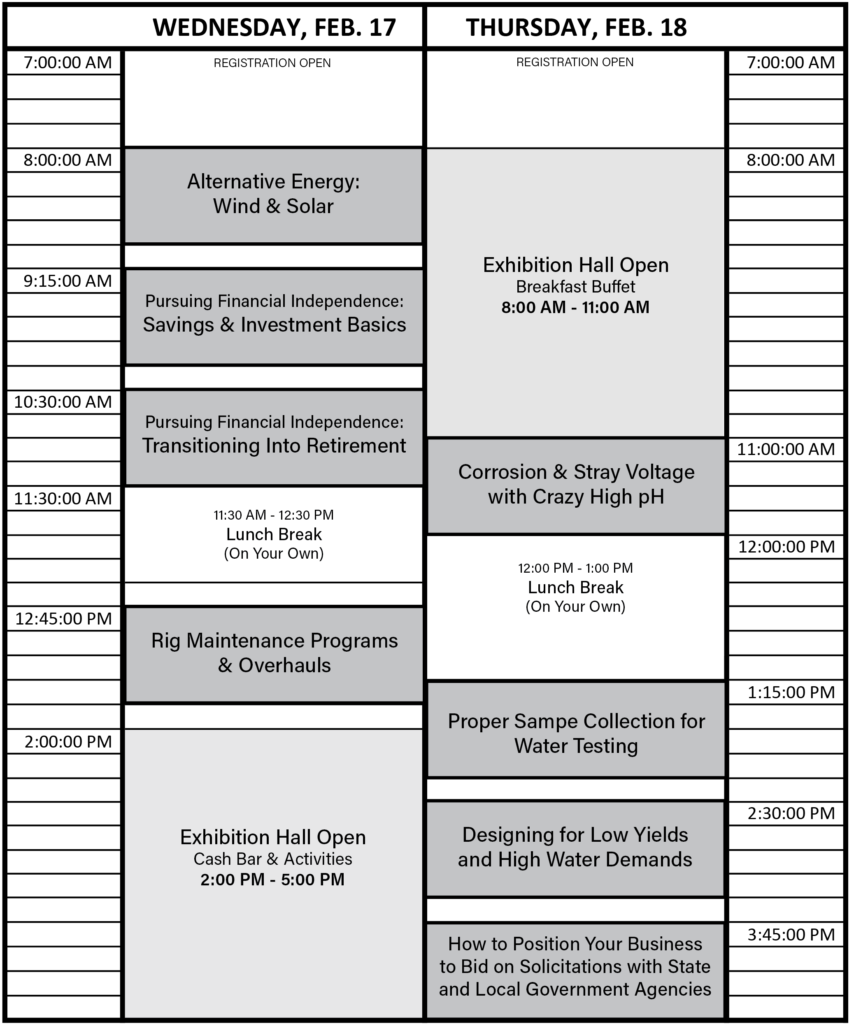 ---
CONFERENCE SCHEDULE
EDUCATIONAL COURSES
Wednesday, February 17
7:00 AM – 5:00 PM Registration Open
8:00 AM – 2:00 PM Educational Courses
9:00 AM – 2:00 PM Exhibitor Setup
11:30 AM – 12:30 PM Lunch Break (On Your Own)
12:45 PM – 1:45 PM Education Course
2:00 PM – 5:00 PM Exhibitions Open
Cash Bar + Auction + Raffles

Thursday, February 18
7:00 AM – 11:00 AM Registration Open
8:00 AM – 11:00 AM Exhibition Hall Open
11:00 AM – 5:00 PM Exhibitor Tear Down
11:00 AM – 12:00 PM Educational Course
12:00 PM – 1:00 PM Lunch Break (On Your Own)
1:15 PM – 4:45 PM Education Courses
Alternative Energy: Wind & Solar

Pursuing Financial Independence Series:
Savings & Investment Basics
Transitioning Into Retirement

Designing for Low Yields & High Water Demands

Rig Maintenance Programs & Overhauls

Corrosion & Stray Voltage with Crazy High pH

Proper Sample Collection for Water Testing

How to Position your Business to Bid on Solicitations with State and Local Government Agencies
Exhibitors To Date
Baroid Industrial Drilling Products
Canature Water Group
Central Drill
Charger Water
Drillers Service Inc.
Drillmax
East West Drilling Inc.
Eastern Drillers Manufacturing Co., Inc.
Eastern Water Quality Association
Flint & Walling
Hasco Sales Inc.
Johnson Screens
Keystone Drill
Latchaw Montgomery & Peck, Inc.
Milby Company
Mudslayer Manufacturing Inc.
Patriot Rigs and Services
Preferred Pump
Rotary Drill Service, Inc.
Water Chemistry, Inc.
Water-Right
Webtrol
---
VENUE

The Fredericksburg Expo and Conference (FECC) provides ample room for any distancing requirements as we continue to pivot through safe practices and continue to gather. This year will be different as we condense our program down to one track of courses and a limited exhibit hall. Meals will be held on your own with the exception of appetizers and a cash bar during the Exhibit Hall opening after class on Wednesday. There will also be a full country breakfast buffet Thursday morning to warm your bellies while you meet and greet with exhibitors once again.
With loads of outdoor space, we will be able to hold heavy equipment in the parking lot and extend the exhibits out into the fresh crisp air. All outdoor exhibits must be registered as well.
FECC is located conveniently off of I-95 in Celebrate Virginia near downtown Fredericksburg.

---
HOTEL OPTIONS
Reserve your stay direct with one of the three following Hilton Hotels that are adjacent to the convention center. Mention the 'VWWA' block code to receive the discounts. The hotels are within walking distance however, there is ample parking at the FECC.
Homewood Suites
1040 Hospitality Ln
540-786-9700
$114.00
Hilton Garden Inn
1060 Hospitality Lane
540-548-8822
$114.00
Hampton Inn
1080 Hospitality Lane
540-786-5530
$109.00