Our annual Winter Conference and Exhibition is quickly taking shape. Join us once again for two days of education, exhibitions, and industry recognition. In addition to returning to the DoubleTree in Midlothian, we are eager to have a Live Auction at our Dinner Banquet Wednesday evening as well as door raffles in the Exhibit Hall.
There are three tracks of courses and dedicated exhibition hall time. Come relax with friends and family in the industry this coming February 16th and 17th.
CONFERENCE GRAPHIC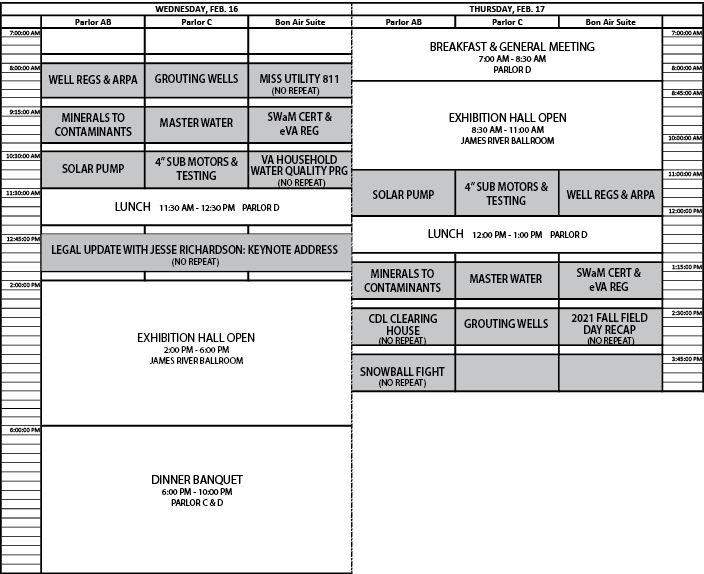 COURSE DESCRIPTIONS
2021 Fall Field Day Recap
Scott Miller, Northern VA Drilling
This course will provide an overview of the four drilling methods that were demonstrated at the VWWA 2021 Fall Field Day. Course content will include information on the Mud-Rotary, Sonic Drilling, Air Rotary and Dual Rotary methods.
1.0 CEU
4″ Submersible Motors & Testing
Mike Messana, Flint & Walling
The course will cover the anatomy of a 4″ submersible motor and the role they play in the overall performance. A deep dive into the 2 wire and 3 wire motors as well as understanding meter readings for both analog and digital.
1.0 CEU
CDL Clearinghouse
Craig Feister, Federal Motor Carrier Safety Administration
This course will present the Drug and Alcohol Requirements with the new changes to the nation-wide clearinghouse as it pertains to 49 CFR Parts 40 & 382.
1.0 CEU
Grouting For Water Wells
Dennis Duty, Baroid IDP
This course will discuss the types of bentonite grouts for proper sealing and casing and abandonment of well, boreholes. Proper mixing and applications of inhibitive and dispersed grouts. Cement with bentonite grouting and cement additives for heat of hydration and bleed control. Grouts used for Geothermal Heat Loop grouting.
1.0 CEU
Legal Update in the Water Well Industry
Jesse Richardson, Land Use Attorney
This course will cover recent legislative, court and regulatory developments in the South Atlantic, as well as developments across the country that may affect well contractors. The objectives are to make participants aware of the recent developments and provide the knowledge that will allow participants to be effectively engaged in the process.
1.0 CEU
Miss Utility 811
Nikki Turbin, Territory Manager
This course covers the Miss Utility 811 process in Virginia and the laws that are associated. Dig with CARE the Miss Utility Law and the one-call process will be discussed.
1.0 CEU
Snowball Fight: Feedback
VWWA Directors
This course is the reshaped feedback course previously held. This new structure provides a way to create interactive discussions on industry challenges, observations, problems and wishes.
1.0 CEU
SWaM Certification & eVA Registration
Courtney Mustin, DSBSD Manager
This course provides an understanding of the state certifications and how to become registered for Virginia's procurement service.
1.0 CEU
Water Contaminants and their Limits
Mike Heatwole, Water-Right
This course will discuss the various water contaminants and their concentrations or limits that lead to issues. Ranges will be discussed as well as Arsenic and PFDs, etc.
1.0 CEU
Well Regulations Update & American Recovery Act Plan
Anthony Creech & Scott Vogel
This course will cover the latest changes to the regulations while providing insight to the $11.4 million in federal funding over the next 4 years in Virginia and what you as a contractor need to do to prepare to support your low-income neighbors.
1.0 CEU
CONFERENCE SCHEDULE
WEDNESDAY, FEBRUARY 16
7:00 AM – 8:00 AM Registration Open
8:00 AM – 9:00 AM Course 1
9:15 AM – 10:15 AM Course 2
10:30 AM – 11:30 AM Course 3
11:30 AM – 12:30 PM Lunch
12:45 PM – 1:45 PM Course 4
2:00 PM – 6:00 PM Exhibition Hall Open
6:00 PM – 10:00 PM Dinner Banquet & Live Auction
THURSDAY, FEBRUARY 17
7:00 AM – 8:30 AM Breakfast & General Meeting
8:30 AM – 11:00 AM Exhibition Hall Open
11:00 AM – 12:00 PM Course 5
12:00 PM – 1:00 PM Lunch
1:15 PM – 2:15 PM Course 6
2:30 PM – 3:30 PM Course 7
3:45 PM – 4:45 PM Course 8
REGISTRATION PACKETS
Download the registration packets complete the registration form and be sure to register by the dates specified.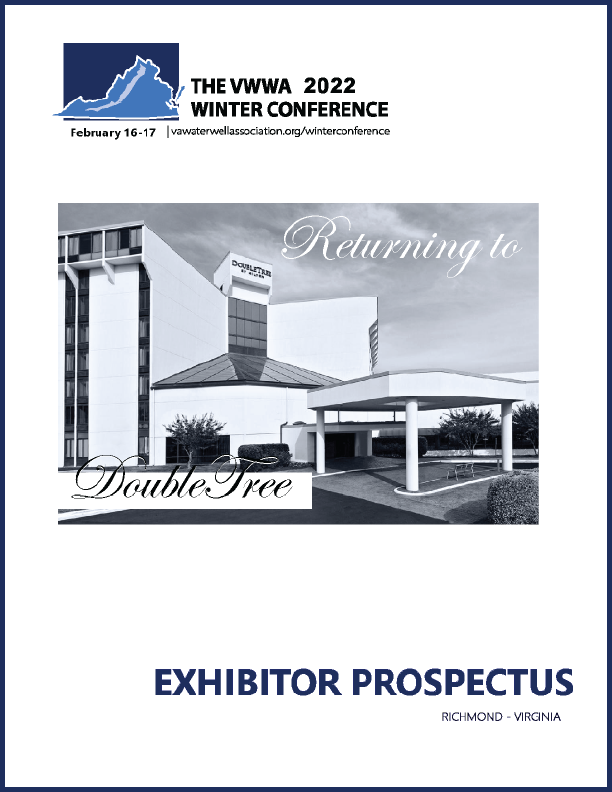 DOWNLOAD Exhibitor Kit for Hollins Exhibitions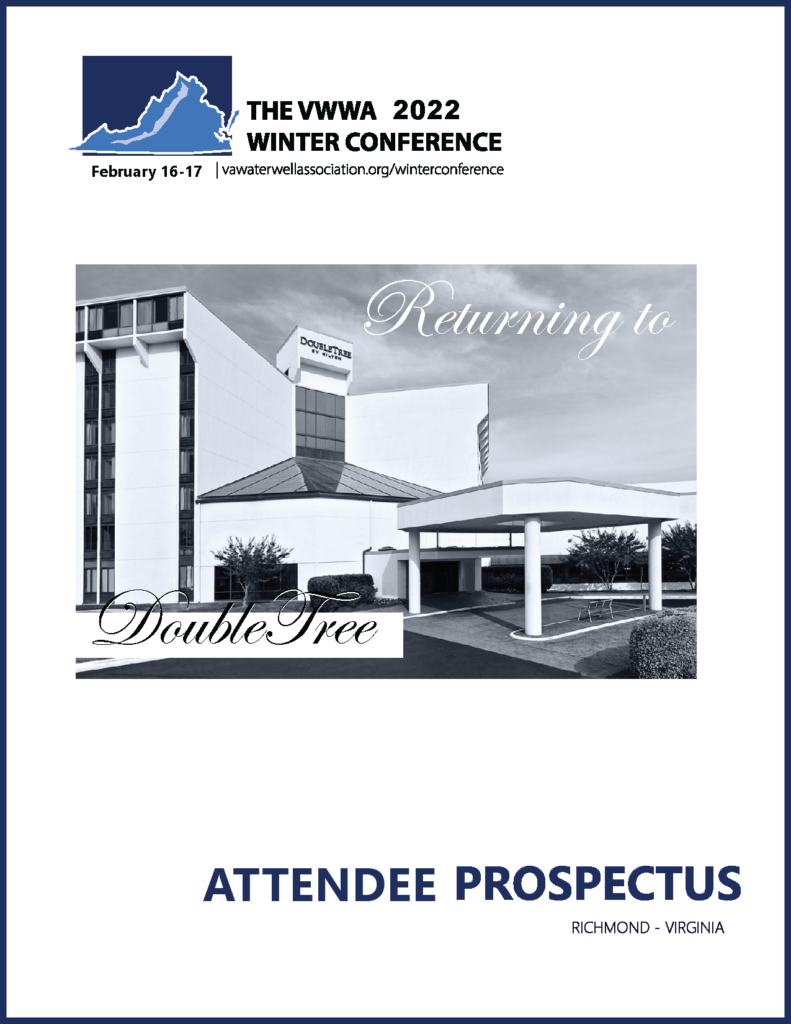 • COVID-19 RELEASE & HOLD HARMLESS AGREEMENT: By registering and attending a Virginia Water Well Association (VWWA) event/meeting you acknowledge that there is an unknown risk of exposure to COVID-19 through exposure to contaminated objects, as well as through personal contact. Such exposure carries with it a certain degree of risk that could result in illness, disability or death. You agree to release and hold harmless VWWA, its employees, officers, and vendors from and against all claims of damages and liability resulting from exposure to COVID-19. Registrants/Attendees also warrant they are abiding by their state/locality laws regarding COVID-19 restrictions.
• CROWD RELEASE: By registering and attending a Virginia Water Well Association (VWWA) event/meeting you grant VWWA full rights in perpetuity to use the images resulting from the photography/video filming taken at the event/meeting, and any reproductions or adaptations of the images for publicity or other purposes to help achieve VWWA's mission. This might include (but is not limited to), the right to use them in VWWA's printed publications and in online publicity, social media, and press releases.
VENUE INFORMATION
CODE: VWWA $129+ tax
(804) 379-3800
Block rates expire February 4th, 2022. Reserve your room before they sell out!
---